[vc_row][vc_column][vc_column_text]
Blackrock College 43: Clongowes Wood College 15
Our Junior Cup Team's winning streak has come to an end following their defeat by Blackrock College at yesterday's Junior Cup quarter-final in Donnybrook. Both teams set off at a pace of 100mph with Blackrock taking the lead shortly after kick-off with a successful penalty. James Wyse (Grammar) omnipresent in defence, managed to force a turnover with a big tackle that gave the supporters a glimpse of hope – Clongowes were playing a style of rugby that their coaches had instilled in them throughout the season.
Blackrock's right-wing, David Doyle, narrowly avoided two defenders adding the game's first try with scrum-half Coffey converting at the eight-minute. Strong carries by the second row, Alex Kelly (Grammar) and fellow lock-forward Ibai Junttila (Grammar) were encouraging; however, any positivity was quickly negated when the opposition's Harry Whelan scored the second try which was swiftly converted at the 20-minute mark. It was Ryan Thompson (Grammar) who put Clongowes on the scoreboard in the final minutes of the first half when he secured 3 points from the tee with a penalty (17-3). Blackrock fought back with their third try on the stroke of half-time.
The supporters looked on as the team entered the changing rooms, and everyone hoped that things might improve for the boys in the second half. Clongowes were allied to a litany of unforced errors in the first half and some would say they were unlucky not to have come away with more points. One hoped that the likes of James Wyse, Oscar O'Brien (Grammar) and Dan Daly (Grammar) would provide a remedy to their plight in the second half.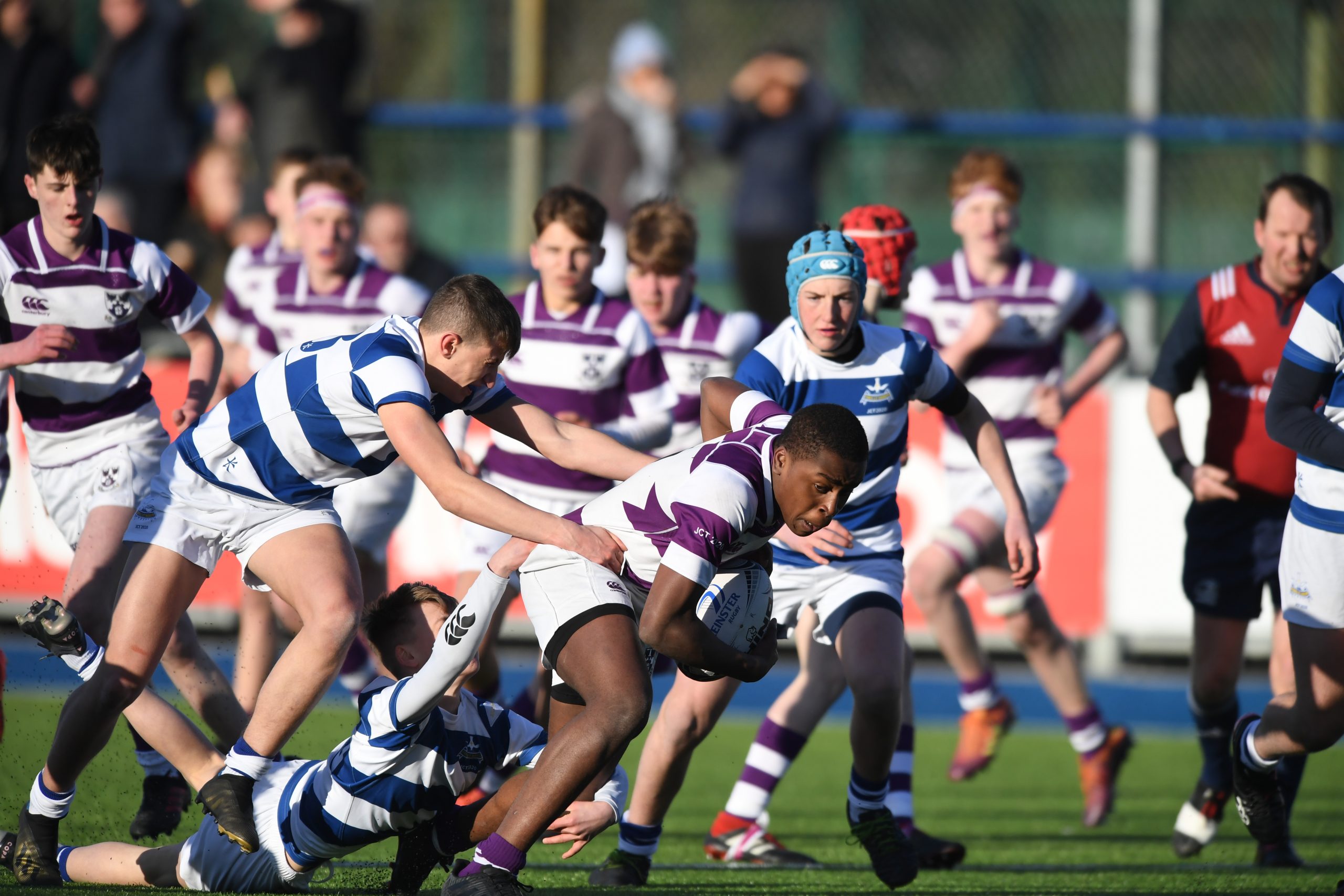 As the second half kicked-off, the Clongowes faithful watched on as Blackrock increased their lead from a try by Greg Barron which was quickly followed on by Blackrock's fourth and fifth try. Wyse bundled over the line giving a glimpse of hope. Blackrock rushed in with a try and conversion in the 49th minute. This was followed by a moment of French Flair late in the game as Sam Pinel (Grammar) showed his class as a rugby player by setting up Thompson who scored a try in the corner (43-15).
The Junior Cup Team may not have secured their place in the semi-final, but they will always be remembered for the team spirit they showed in the face of adversity. The very best of luck to Blackrock College who will take on Castleknock College in the Bank of Ireland Leinster Schools Junior Cup Semi-finals in March.
Scorers for Blackrock College: D Doyle, D Bennett, E Walsh, G Barron, J O'Sullivan, H Whelan try each, O Coffey pen, five cons.
Scorers for Clongowes Wood College: J Wyse try, R Thompson try, pen, con.
[/vc_column_text][/vc_column][/vc_row][vc_row][vc_column][ult_buttons btn_title="See the Gallery for more images" btn_link="url:http%3A%2F%2Fclongo45.vm002.innermedia.co.uk%2Fdt_gallery%2Fjct-quarter-final%2F||target:%20_blank|" btn_align="ubtn-center" btn_title_color="#ffffff" btn_bg_color="#52426a" icon_size="32″ btn_icon_pos="ubtn-sep-icon-at-left"][/vc_column][/vc_row]