Ireland's leading Theatre-in-Education company, Cyclone Rep recently returned to Clongowes to perform its highly regarded Bullying Prevention Session (BPS) for the Elements and Rudiments groups. BPS is the brainchild of Mr. Peadar Donohoe – a PhD graduate and accomplished researcher in the area of role-play and drama for bullying prevention and awareness. The Cyclone Rep group is skilled at reaching its younger audience who find its multi-faceted, theatrical approach both entertaining and informative.
The session was broken down into three sections – a performance, presentation, and workshop – which worked together to help the boys better understand bullying and its prevention. During the 45-minute performance, five talented actors portrayed various scenarios that addressed some very pertinent topics such as body image, peer pressure and cyber-bullying. After the show, there was some time for questions and answers which the boys took full advantage of – they were obviously engaged with the topic at hand.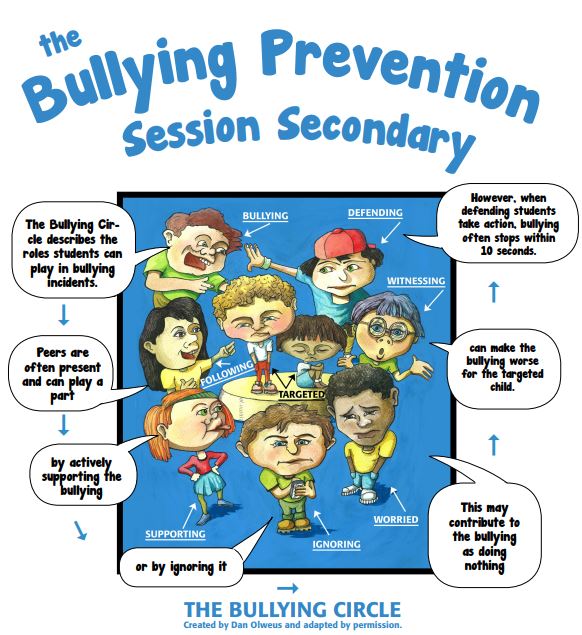 In the second part of the session, Mr. Donohoe presented his research which looked at the negative consequences of bullying for both the victim and the perpetrator; the different forms of bullying and the roles played by those involved. The session finished with an interactive workshop that the boys really enjoyed. They arranged into smaller groups, each tasked with coming up with actionable anti-bullying initiatives. Each group was given the opportunity to contribute to a document that was shared with the College after the session and that outlined various preventative methods to help eradicate bullying.
Many thanks to Cyclone Rep for this thought-provoking and engaging workshop which has helped to further educate the boys on the importance of being mindful and compassionate with others, both online and in the real world.