[vc_row][vc_column][vc_column_text]
Clongowes Wood College 38: Catholic University School 10
Yesterday, our Junior Cup Team kicked off their cup campaign at MU Barnhall RFC, Leixlip where they successfully took on Catholic University School (CUS) in the Bank of Ireland Leinster Schools Junior Cup. The boys were greeted by a blue sky and a crowd of loyal supporters who were waiting on the side-lines to cheer them on.
CUS offered stern resistance in the first half of the game which remained scoreless until the 25th minute. Things heated up when full-back, Sam Pinel (Grammar), touched down giving right-wing, Ryan Thompson (Grammar) the opportunity to convert. Not to be outdone, Catholic University School responded with a try. Clongowes came back fighting and James Wyse (Grammar) swooped in and grounded the ball just as the first half ended.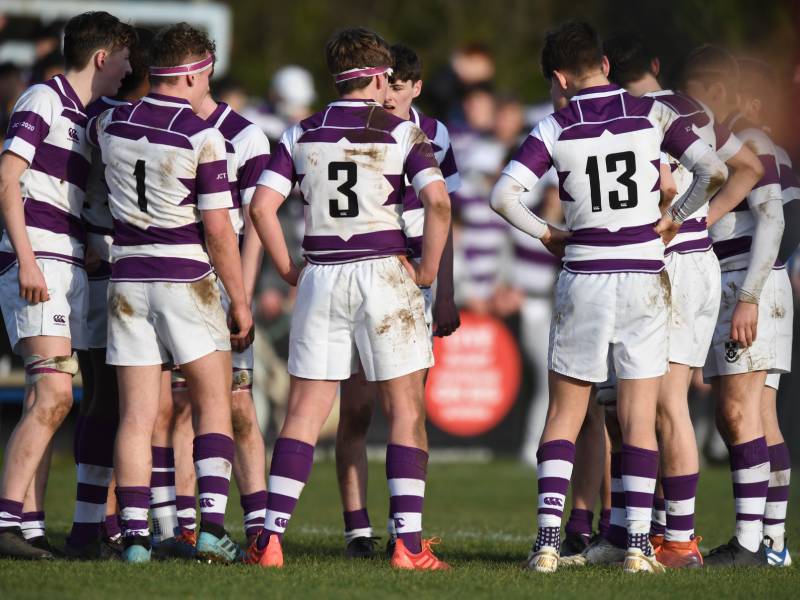 Outside centre, Oscar O'Brien (Grammar), who had a fine game, touched down for a try a mere five minutes into the second half swiftly followed by a second try from Pinel. Dan Daly (Grammar) certainly made his presence felt when he scored the fifth try from a lineout maul. Pinel completed his hat trick by touching down for a third time on the hour with CUS matching his efforts with a final try leaving the final score at 38-10.
Well done to the Junior Cup Team who have secured their place in the next round of the Leinster Schools Junior Cup where they will play Blackrock College. The second round of the Junior Cup will take place at 3 pm on Thursday, February 27th at Donnybrook Stadium.
Scorers for Clongowes Wood College SJ: Samuel Pinel 3 tries, James Wyse try, Ryan Thompson 4 cons, Oscar O'Brien, Dan Daly try each.
Scorers for CUS: Jack Grant, Rian Treacy try each.
[/vc_column_text][/vc_column][/vc_row][vc_row][vc_column][ult_buttons btn_title="See the Gallery for More Images" btn_link="url:http%3A%2F%2Fclongo45.vm002.innermedia.co.uk%2Fdt_gallery%2Fjct-first-round-victory%2F||target:%20_blank|" btn_align="ubtn-center" btn_title_color="#ffffff" btn_bg_color="#52426a" icon_size="32″ btn_icon_pos="ubtn-sep-icon-at-left"][/vc_column][/vc_row]