Ignatian Camino Retreat
On Friday morning 30 of us Transition Years flew to Biarritz for the start of our Ignatian Camino Pilgrimage. There we met our bus driver and travelled to the small, picturesque town of St Jean Pied De Port. After getting our Camino passports stamped we attended Mass in the local church, where the acoustics were excellent and our voices reverberated off the walls. After Mass we settled into our hotel and then gathered together for the first of our nightly reflections with Father Sheil. Then we had dinner and everyone sat together with a no phone rule which allowed us to communicate and get to know each other better.
The next morning we began our 25 kilometre hike from the St James' Gate in St Jean Pied de Port. After a few kilometres we reached our first summit and my legs were aching and groaning. Every seven kilometres, we stopped for some snacks and the all-important water, but the best part of the hike was the absolutely stunning views – not to mention the vultures with massive wingspans above our heads. The last few kilometres were completely downhill which was tough on our feet and knees. When we saw our bus in front of the church we forgot about all our pains and downed a bunch of water before we drove to our hostel, where we had a nice dinner for about two hours and then went to bed.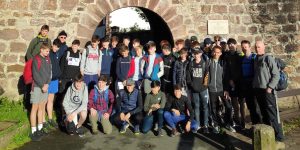 The next morning we drove for about an hour to Pamplona, which is famous for the running of the bulls. Mr McCormack gave us a tour of the city, and we saw where St Ignatius got injured with a cannonball, a police display in the Bull Ring and the old city walls. After lunch we went to Loyola, the home of St Ignatius, where we had Mass in the room in which St Ignatius recovered after his injury – the Chapel of the Conversion. After Mass we had a tour of Ignatius' house and learnt about his early life and then Father Sheil brought us to the Basilica and talked to us about the architectural features as well as the symbolism of each one. After night reflection we had dinner and then we went to bed.
The serrated mountain
The next day we drove to Montserrat (serrated mountain), about six hours away from Loyola, where the views from the top were very impressive and beautiful. We had our night reflection a bit earlier as we were going to see the evening vespers in the monastery. Afterwards we met a priest who took us to a tiny chapel behind the monastery where we had Mass. Subsequently we were able to go and touch the statue of Our Lady of Montserrat, which was a unique spiritual experience. We then went back to the hotel and had our dinner and so to bed to get some energy before our last hike of the trip.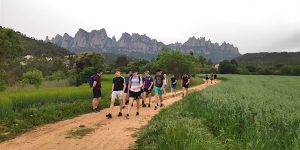 After breakfast we gathered outside the monastery and headed off along a path cut out from the mountainside. The views were amazing as we made our way down the mountainside to flat ground which should have made the rest of the hike a lot easier if it wasn't for the sun beating down on us. This was a very enjoyable hike and it was good to talk to different people along the way. Once we reached Manresa we went into a church that contains the cave in which St Ignatius lived and prayed for 11 months and where he received a revelation from God. We then checked into our hotel and all went to the pool. After doing our night reflection in our rooms we all had dinner in the restaurant area before retiring for the night – quite tired.
On our penultimate day we made our way to the airport to drop off Father Sheil before embarking on a bike tour of Barcelona and before we knew it we were on the road to PortAventura. This is a theme and leisure park, where I experienced the Shambala, one of the best, most exhilarating rides I've ever been on. Afterwards we went to our hotel and had our last reflection before we went to bed. On the last day we headed to the Camp Nou, home to FC Barcelona and then to La Plaza De España, for lunch and to buy some final souvenirs. After arriving in Dublin I caught the bus going to Galway with Aran Mannion and we both agreed just how much we enjoyed the trip and how much we were going to miss it.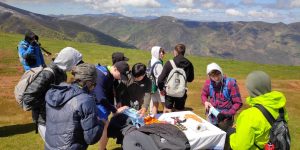 On reflection
I believe this was the best experience I had in 4th year for quite a few reasons. I can see how this trip could strengthen one's faith. When you visit all these holy places of popular pilgrimage, you can sense that you are close to God. Another reason why this trip was very enjoyable was that I made a lot of new friends and also got to know my older friends even better. The idea of sitting around a table all together and the no phone rule was a good way to be more sociable and encourage us to speak to people. During the hikes we had good fun as we had seven hours of talking, singing, and laughing and we all managed to bond together. We made a lot of very good memories and we have a lot of 'in jokes' as a result.
The staff on the trip were very kind and very fair and were always there to chat to and I got to know Mr Lumb, Mr McCormack, Mr Marron and our GAP student, Andrew Lawler. I helped Father Sheil translate a lot during the week, so not only did my Spanish improve while I was there, I also got to know Father Sheil better.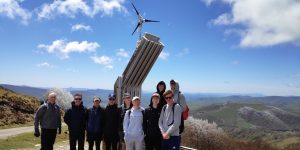 Before going on the Camino I was thinking that it might have been a better choice to do a work experience – that it would be more beneficial to me if I did – but now I don't regret missing any of that and I would recommend the trip to any and all incoming 4th years. I believe it is a good experience for both religious and not so religious people as you learn very interesting things and you visit some very beautiful places. It really is a worthwhile experience and was a great way to finish off my Transition Year.
Kieran Barrett