The latest running of the Triangle Race in Clongowes took place on Wednesday, 15th May. It was a bright summer evening perfect for running as the boys set off down the back avenue on the first leg of a course that brought them along the front of the college and then back up the energy sapping main avenue.
While none of the records set by the remarkable Jack O'Leary (OC'16) was threatened, there were some interesting features in the times. The 7.32 posted by overall winner James Coonan (Poetry) was ten seconds faster than his own Best Time Overall from last year. Further down the school, the 7.49 clocked by Ned Williams (Elements) bested all bar James and Paddy Dowling in the five years above him!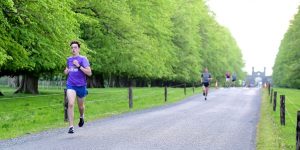 2019 TRIANGLE RESULTS
Higher Line (Record Jack O'Leary 2015 – 06.38.40)
1st James Coonan 7.32
2nd Paddy Dowling 7.41
3rd Evan O'Boyle 7.50
Lower Line (Record Jack O'Leary 2013 – 6.54.00)
1st Patrick Martin 8.01
2nd Cian Hickey 8.03
3rd Gavin Turley 8.23
Third Line (Record Jack O'Leary 2012 – 7.17.40)
1st Ned Williams 7.49
2nd Padraic Spillane 8.07
3rd Tom Murtagh 8.09
Best Time Overall: James Coonan (7.32)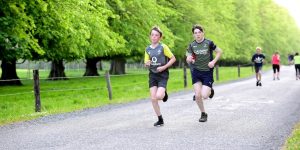 Congratulations to all who took part in a very enjoyable event and many thanks to the Prefects and Gaps who made themselves available on the night to ensure the success of what has become a notable occasion in the ongoing history of Clongowes.
The Auld Triangle
The origins of racing 'The Triangle' in Clongowes, while hardly lost in the mists of time, are certainly unclear. It is such an obvious course that it is likely that boys ran and raced it as long as boys have run and raced in Clongowes. The modern event has been running (so to speak) for over 25 years since 1994, when the Gamesmaster, Mr Brian O'Keeffe implemented an idea first suggested by former Headmaster, Fr Liam O'Connell sj (1987-92) 'that there be races round the "triangle" of front and back avenues for all-comers within each line'.