2017/2018 saw the launch of our exchange with Fordham Preparatory School in the Bronx, New York. Last November we welcomed some students and staff from the school to Clongowes (here) and Fordham reciprocated the invitation just before Easter. Jack D'Arcy (Syntax) takes up the tale…
On April 6th, we departed Dublin airport for New York, where we were met by our host families who brought us to their homes before we embarked on a busy programme of activities. The first of these saw us take a boat to Liberty Island to view the Statue of Liberty before going on to Ellis Island to learn about the Irish emigrants, who had travelled over during the famine.
On Monday morning we got to Fordham for an early breakfast, and then had a tour of the beautiful campus from Mr Nelson Ritter. Therew was a beautiful mix of both old and modern buildings and it was all very clean. After the tour, we went to all the classes with our host brothers and were surprised to see that everyone did their work on computers – there wasn't a copybook or pen to be seen!
On Tuesday we went to 'Top of the Rock' on the Rockefeller Centre, where we learn about New York's architecture before going to St. Patrick's Cathedral. It was quite crazy seeing this ancient, stone building beside some of New York's modern skyscrapers! After a short visit to the Irish Consulate we made our way to the 9/11 memorial, which gave us pause for thought. The memorial had the names of all who lost their lives in 9/11 – just ordinary people who became victims of a horrific action.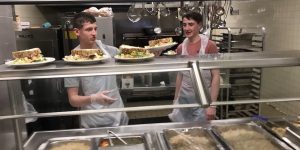 Part of the Solution
On Wednesday we had the first three classes with our host brothers before Mr Ritter drove us to 'POTS' (Part of the Solution) a soup kitchen in the Bronx that serves proper meals (and not just soup as we had thought). There we paired off and set about dishing up food, serving it at tables and washing up. After POTS, we went back to Fordham to get ready to go to the Nets vs Heat NBA Game. Although I am not a huge fan of basketball, there was so much else to keep us entertained from dancers and singers to stand-up entertainers throughout.
Thursday was a quieter day with classes as normal until 11.30, when we got a bus to the Lincoln Centre, home to the Fordham School of Law, where we heard a talk on Brexit that was surprisingly interesting. Three different professors shared the talk, each had their own opinion on Brexit and I really enjoyed it! After the talk we went back to Fordham before our host brothers took us to their homes, where our host parents – who were extremely kind – made us feel right at home.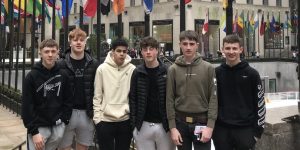 On Friday morning it was class as usual until lunchtime, when we went to the Bronx Zoo. We had a great time laughing at the monkeys and watching the tricks they could perform! When we got back to the Fordham Campus, we got on a train with our exchanges (and Mr Garry Corcoran and Mr Ritter) to go to Yankee Stadium, which was huge but rather empty and the game was not nearly as interesting as the basketball.
On the weekend everyone relaxed at home talking and spending time with our host families. On Saturday evening we attended a Palm Sunday Mass in a very small but delightful chapel in the Fordham School after which we went for food in Brooklyn with all the exchange students and their familie. It felt like we were one big happy family and when we went back to our houses for our last night I already knew I was going to miss everyone!
On Sunday, our last day, we had a relaxing morning with our host families before going to JFK for 17.00. We had a long flight ahead of us to contemplate the great week we had just experienced: by far my favourite experience of Transition Year!