Another busy year for the Clongowes Union was presided over by the energetic President, Conor Daly (OC'85). The Annual Business Lunch in October featured the award-winning comedian, satirist, columnist and impressionist Oliver Callan. Oliver entertained his audience of hundreds with a cast of thousands by channeling for the likes of Enda Kenny, Barack Obama, Leo Varadkar and Boris Johnson. All funds raised on the day went to the Peter McVerry Youth Café.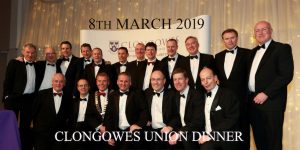 An audience of hundreds also turned out for the 123rd sitting of the Clongowes Union Annual Dinner in this 205th year of the college on Friday, 8th March and filled the function room in the Ballsbridge Hotel for a lively evening. Conor Daly (pictured above with some of his classmates) reminisced fondly about his own days in Clongowes and also spoke warmly of the continued strength of the Union and its good works, making particular mention of the Clongowes Union Benevolent Association and the Peter McVerry Café. (Full text of Conor's speech here).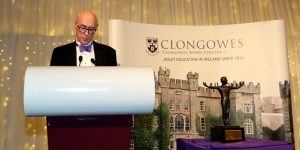 In his address the Headmaster, Mr Chris Lumb (above) referred to the two recent promotional films about Clongowes, noted how they 'convey the camaraderie, sense of community and respect amongst the boys themselves and between boys and staff. Saying that 'a boarding school is a most nurturing, challenging, healthy, and joyful form of education', Mr Lumb continued that 'any good boarding school should mirror the very best of family life, full of life and laughter, understanding and patience with support and comfort when things go wrong'. 'The best homes give children clear boundaries, set high expectations and instil values by which to live' he said. (Full text of Mr Lumb's speech here).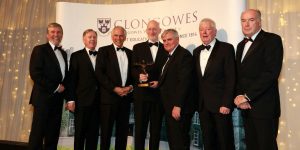 A high point of the night was the presentation of the Alumnus of the Year Award to a very worthy recipient – William Sargent (OC'73, pictured above with some of his classmates) – founder and CEO of the visual effects giant, Framestore, a Knight of the Realm and so much more. The Alumnus of the Year Award honours Old Clongownians who have made a positive contribution to society and/or to their field. William embodies these aspirations through the innovation he has fostered, the employment he has created, and the service he has rendered (Full citation here).