Clongowes Wood College 19: Gonzaga College 22
In the end it was the only converted penalty of the match that separated the sister schools in Donnybrook yesterday afternoon in a game that hung in the balance for much of its length. The teams were evenly matched on the pitch as well as on the scoreboard where they each posted three tries and converted two of them.
There was a hint of spring in the air as the players ran out in bright sunshine with just a light breeze from the Wesley end to stir the flags. There was certainly a spring in the step of the Clongowes players and that early promise was borne out in the 15thminute when they were first to score with centre Hugo Phillips touching down wide on the left following a snappy interchange with Mark Galvin (5-0).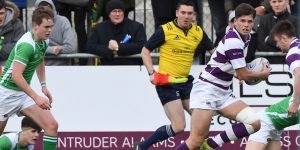 The early exchanges had seen both teams probe but fail to penetrate two well-marshalled defences, with little opportunity for back lines to shine – and such would be the pattern for much of the afternoon. Following the breakdown of a Clongowes attack after some 20 minutes, Gonzaga worked their way down the left touchline and were eventually rewarded with a try of their own in the 27th minute (5-5). They came knocking again five minutes later when a speculative box kick forced a five metre scrum that led to a converted try for a 12-5 lead at the interval.
Nothing daunted, Clongowes hit the ground running in the second half to score fourteen unanswered points before Gonzaga had time to draw breath. The first came with a penalty that was confidently kicked to the corner before hooker Ethan Noone crossed and David Wilkinson converted to tie the game up at 12-12. Five minutes later Wilkinson repeated the dose following a try by winger Luke McDermott (below) and the ship seemed well steadied with a seven point lead after 51 minutes (19-12).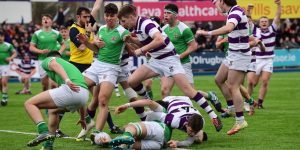 Sadly that closed the Clongowes account while Gonzaga came again with a penalty on 60 minutes (19-15) before retaking the lead and completing the scoring five minutes later with another converted try (19-22). Clongowes turned the screw once more but Gonzaga ran the clock down with a period of controlled possession that saw them over the line and into their first ever Senior Cup decider.
Clongowes: J Maher; L McDermott, J Carroll, H Philips, M Galvin; D Wilkinson, R MacGoey; C Duff, E Noone, R McMahon; C Doyle, H Lonergan; D McCormack, T Gilheany, T Coghlan (capt). Replacements: B Dooley, T O'Brien, C Dowling, P Dowling, F Kiernan.