Have you ever wondered if too much exercise can be bad for you? Or why we listen to music and whether it is better to run barefoot or in runners? Maybe you lie awake wondering if sleeping with your 'phone can be bad for you – or lose sleep pondering how the temperature of a tennis ball affects its bounce…
These are some of the question being posed by our Rudiments and Elements students at our Annual Clongowes Wood College Junior Science Fair to be held on Thursday, January 31st as part of Science Week, with events taking place both on and off campus.
Prior to Christmas, the younger boys were tasked to take on some individual scientific research and to present their work at the Junior Science Fair in conjunction with Scifest at School involving Elements and Maths Modelling Students. Each student was required to produce a report on their work done and a poster, then to orally present to judges.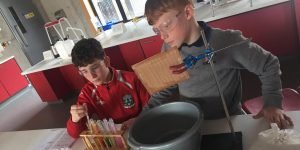 The format of this competition is in line with international practice from school science fairs to symposia, which bring together leading experts in the area of STEM (science, technology, engineering and mathematics). The new Junior Cycle requires science students to develop the skills of 'The Scientific Method' and this provides them with an opportunity to show these skills in advance of the Rudiments Classroom Based Assessment.
Other activities during Science Week include:
Elements visit to Dublin Zoo to study Conservation. Biodiversity and Wildlife Management on January 29th
Rhetoric Chemistry visit to NUI Maynooth to take part in a Leaving Cert Chemistry Practical Workshop on January 29th
Rudiments Science Quiz on January 31st
On Tuesday, Wednesday and Thursday there will be Science Movie Nights in the TV Room from 20.00, curated by Transition Year student, Daniel Groome.