Two Clongowes fencing teams from Rudiments and Elements travelled to Glenstal in Limerick recently for a friendly fixture with the equivalent A and B teams from the host school. The boys represented Clongowes very well with each team winning both their matches. For Elements this was their first real 'fight' (a fencing term) and it was the first 'away' interschool match for Clongowes since the revival of the sport last year.
Clongowes had previously met Glenstal in the Irish Interschools Fencing Championship held in Clongowes last May, where they finished 1st and 2nd to the Limerick school's 3rd and 4th placings, coached by Ms Katie Arup (veteran of the 1984 Los Angeles Olympics) assisted by Mr Adrian Lee. Since then the coaching team has been boosted by the arrival of Italian swordsman, AndreaPetrignani.
Clongowes Fencing Teams v Glenstal
Rudiments

Alex Lee

Javier Villaneuva

Emilio Vega

Conor Crutchley

Elements

Marcus McElligot

Daniel Schacht

Vlad Spiru

Ben McGuigan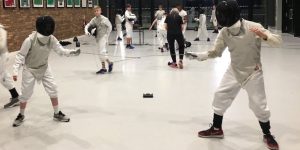 History of Fencing in Clongowes
Amongst the 'extras', which appeared on the boys' bills in the 19th Century was a charge for fencing lessons, which was no surprise in 1814, as Napoleon was still at large and many students would opt for military careers after leaving Clongowes.
The lessons faded out as the years passed but that did not prevent Brian Hamilton (OC'55) fencing for Ireland in the Rome Olympics (1960), while Michael O'Brien (OC'88) competed at the 1992 Olympics in Barcelona.
Now, due to the generous support of Mr Adrian Lee (father of Alex in Rudiments), fencing has returned to Clongowes. The sport is very popular among the Third Line boys who use the room above the new swimming pool for their weekly training sessions and speaks to the breadth of co-curricular activities available to the boys here at Clongowes.