Mental Health Week will be celebrated from the 7th-13th October 2018, with World Mental Health Day taking place on the Wednesday – October 10th. The theme for this year, as set by the World Federation for Mental Health, is 'Young People and Mental Health In a Changing World'. To mark the start of the week, Nick O'Sullivan from St Ignatius College, Riverview, who is in Clongowes on a GAP Year, made mental health the theme of his Morning Prayer today…
"Today marks the beginning of Mental Health Week, and – for all of us who are a part of the Clongowes community – looking out for and caring for those around us is of extreme importance. Throughout your time in Clongowes, the Ignatian imperative of being 'Men for others' is instilled in your minds, imploring you all to aid others when they are in need. This doesn't have to be a physical act of kindness, but something as simple as asking, 'How are you?'. Many say this three-word phrase in passing, not expecting a complex response, and it has become more of a greeting rather than a genuine query of concern. Quite often we are all too caught up in our own lives to notice the struggle of those around us.
Throughout my time at Riverview, the Jesuit phrase Cura Personalis was emphasized and re-emphasized. The translation of 'Care for the entire person', encapsulated what both Jesus and St Ignatius challenge us to do daily. Applying this to life in Clongowes, noting behavioural and emotional changes in one of those standing beside you now can be the key to helping someone who is screaming on the inside. Something as simple as poking your head into their cubicle or room at night and asking how they are and having a conversation can help someone get their concerns off their chest.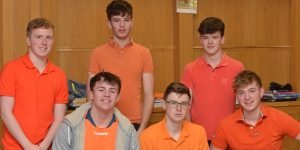 This simple question also helps build a safe environment, one where anyone can open up about anything troubling them, knowing that they have the support of their Clongowes brothers. Gone are the days where you tell someone to 'Man up' if they are struggling. Men, especially teenage boys like yourselves, often find it hard to summon up the courage to open up to someone if the going is tough.
So today I put the challenge to everyone here to ask someone today 'How are you?' And not in a way of greeting, but in the hope that this person feels they can safely tell you if anything is going wrong. Ask 'How are you really?' Create that support network so everyone, from 1st years to 6th and all the way up to the staff are comfortable to face any demons they have in their life. Do as Ignatius taught us and be true Men for others."
The Five Ways to Wellbeing are simple actions to help you feel good and function well:
Connect. With the people around you – family, friends, colleagues and neighbours.
Be Active. Go for a walk or run. Step outside. Exercising makes you feel good.
Take Notice. Be curious. Catch sight of the beautiful. Savour the moment.
Keep Learning. Try something new. Discover an old interest. Sign up for a course.
Give. Do something nice for a friend, or a stranger. Look out, as well as in.
The Amber Flag Committee is currently working on the events planned for our annual Wellness Day (Thursday 22ndNov), along with the initiative the committee will also be rolling out a weekly reflection period open to staff and students. This will be launched in the Manresa Prayer Room this Friday from 1:20 until 1:30 and every Friday thereafter and will be open to all students and staff.