On Wednesday (12th) the five Rhetoric students – Brian Gallagher, James Hoey, Hugo O'Donnell, Harry Arkwright and Michéal Beirne (left to right below) – who had travelled to Lourdes as part of the Dublin Diocesan Annual Pilgrimage returned home tired but happy. They had been accompanied by Mr Francis Marron, Mrs Eileen Lumb and one of our GAP students, Matthew Toomey. By all accounts the boys had a very fulfilling and worthwhile experience working with 133 teenagers from all over the Dublin diocese in their role as helpers making the pilgrimage experience more enjoyable for over 177 sick and elderly Dublin pilgrims.
The Dublin Pilgrimage – the largest of its kind in Ireland – was inspired by the then Archbishop of Dublin and Old Clongownian (1933), John Charles McQuaid in 1948. This – the 70th event – saw seven aircraft transport a full complement of sick pilgrims (many with complex medical needs) their helpers, 45 nurses, 8 doctors as well as the students to the French Marian shrine.
Less than two weeks since the Archdiocese hosted the World Meeting of Families and the visit of Pope Francis, Archbishop McQuaid's successor, Most Rev. Diarmuid Martin, in his homily, recognized the idealism of our young people who learn in Lourdes the rewards of caring, while acknowledging that is not easy for young people today to grow in faith and generosity. (Full text of Archbishop Martin's homily here).
The boys' duties included checking pilgrims in at the airport, loading and unloading wheelchairs from the hold of the airplane, cleaning the wards, wheeling the pilgrims to and from the many ceremonies, chatting with their new friends, performing party pieces and regularly making cups of tea!Three of the boys worked on ward support and two of them on Hotel support. They also helped to transfer pilgrims from their wheelchairs to the voitures or three wheeled buggies (a more comfortable mode of transport) to move about in the domain and various holy sites within the sacred area.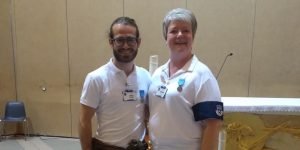 In Lourdes the boys were joined by Old Clongownians (and Lourdes veterans) Joey Messayeh (OC'10), his brother Ben (OC'17) and Tommy Inglis (OC'18). At the Medal Ceremony on the last evening Joey (above) was awarded a silver medal for five years' service, while Mrs Lumb received a bronze medal for three years service.
The boys are undoubtedly tired from all of their hard work, but are nonetheless renewed and eager to share of this experience that they thoroughly enjoyed. Don't hesitate to ask them about their time in the Pyrenees, about their musical prowess and – most importantly – about how they made a difference in the lives of the pilgrims during their time in Lourdes.