Legendary American author Damon Runyon may have quipped that, while 'the race is not always to the swift that's how the smart money bets' most of the time, but the author of Guys and Dolls, had he been on the playing fields of Clongowes today, would have had to admit that there is often more to schools' sports than that.
Although the day dawned a little cloudy and cool it soon warmed up as the sun broke through just as the games commenced. 'Citius, Altius, Fortius' as the Latin scholars would have it and indeed a great many of the athletes went faster, higher and stronger in their quest for the much-coveted Aloysius Bowl for the victorious house.
From the starting gun of the Elements 100m race to the final heave in the last tug-o-war, the young and not-so-young athletes with might and main strove to extract even a single point for their houses in this annual Inter House Sports Day. For every point counted on this day of intense competition between the ten houses in the school with ten points awarded for first place and a solitary (but sometimes crucial) one for tenth.
Joy was unconfined
While all participants are to be praised for their efforts in pursuit of the Corinthian ideal, joy was unconfined amongst the members of Collins House led by Nathan Behan Lyons and Tadhg Dooley, who enjoyed a narrow victory against all comers. Their patron saint was known 'as a man of sound judgement and great physical strength' and these qualities were on display as they fought with heart and hand on the track and in the field.
After many a twist and turn and plenty of running, jumping and throwing, they emerged triumphant with 337 points and proudly received the trophy from the Headmaster on the steps of the cricket pavilion. Deputy Headmaster and scorer-in-chief, Mr Martin Wallace scrutinised the results as keenly as if they were CAO points and was heard to comment on the keenness of the competition with three houses exceeding 300 points while two more were just shy of the mark.
After they had showered and changed the students reassembled in the refectory, where the headmaster presented the awards for the best athlete in each year (see below). Head of Sport extraordinaire, Mr John O'Donoghue thanked all involved for their help in making the day such a success: all those who competed, the staff and GAP students who adjudicated, the maintenance staff for preparing the grounds and the catering staff for an early 'Christmas Dinner' to round off the day.
Declan O'Keeffe, Head of Communications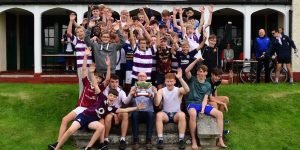 Best Athlete in Each Year
| | |
| --- | --- |
| Elements | Edward O'Gorman |
| Rudiments | Padraic Spillane |
| Grammar | Gavin Turley |
| Syntax | Aran Mannion |
| Poetry | Charles O'Neill |
| Rhetoric | Patrick Dowling (2nd Annual Award) |