Duck Push Golf Classic
The planning for the 2018 Duck Push Golf Classic started in early January. Transition Year is a very busy year for exchanges and work experience so different people were asked to step in to help with the many different jobs that had to be done. We worked about 2-3 hours a week in the months leading up to the day itself.
Soon the big day dawned and found us at the K Club to set up with plenty of time to spare. The first players began to arrive at 12.30 and it became very busy in the Smurfit Clubhouse before the sound of the shotgun at 14.00 signalled the commencement of play. We had great fun driving around the course in our buggies making sure that all groups were well hydrated and didn't need anything extra to eat. Needless to say that we all wanted our own personal buggy by the end of the day!
The first groups finished at 18.15 and continued to flood in the door from the finishing holes that were further away. The presentation of prizes began after the meal and needless to say the scoring was of a high quality. We had prizes from 7th to 1st places, which were announced in reverse order. We also had two 'nearest the pin' prizes, two 'longest drive' awards and a yellow ball prize. Team MacGoey retained the cup for the second year running with a magnificent score of 91 points.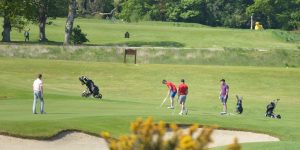 At the conclusion of the prize giving, we played a short golf highlight video containing the most memorable moments from three of Ireland's finest golfers, Rory McIlroy, Paul McGinley and Pádraig Harrington. We had a number of items signed by these players which we put up for auction following the video and – thanks to the generosity of the guests – we made far more money for Crumlin Children's Hospital than we had anticipated. Nearly everybody in attendance left the Smurfit Clubhouse that evening with something tucked under their arm.
We had a fantastic time organising the Golf Classic, are very grateful to all involved in making it such a success and hope that the tradition will continue for many years to come.
Mikey Mina Ronayne
(Pictured above with Messrs Liam McGovern, Daryl Maxwell and Paul McCormack)