Irish Interschools Fencing Championship
Eight teams from four schools contested the 2018 Inaugural Irish Interschools' Championship hosted by Clongowes Wood College on Saturday 19thMay:
Clongowes Wood College
Dunamase College
Glenstal Abbey School
Royal Belfast Academical Institution
Clongowes and Glenstal took an early lead with both A and B teams defeating their opponents Dunamase and RBAI in round one. 
The RBAI A and Clongowes B match was closely contested with the lead switching six times before Jaime Palacios from Clongowes closed off the match 45-42 after starting 2 points behind his opponent. 
Clongowes A took victory in the last round one match beating Dunamase B team 45-23. The home side led from the start, resisting a 7-point effort from Dunamase fencer Dagmara Krol mid way through.
In round two Clongowes A beat Glenstal A 45-28 and claimed a place in the final. An early lead was created by Glenstal's Ben Costello before Clongowes captain Kosi Ugwueru wrestled back control after which his side maintained a comfortable lead. 
They were joined in the final shortly afterwards by Clongowes B who defeated Glenstal B. The Clongowes team lead from the start despite a mid match rally by Glenstal's Luke Fitzgerald. 
Jaime Palacios from Clongowes secured his team's place in the final when he completed the match with a final score of 45-27.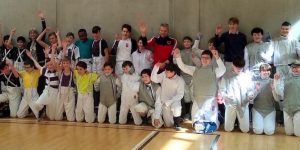 The grand final pitched Clongowes A and B teams against each other while Glenstal A and B fought for bronze. Both matches followed form with the A team's victorious 45-25 for gold and 45-34 for bronze. The trophies are awarded to the schools based on the final placings of all the teams using the points system applied by Fencing Ireland for the national rankings:
Clongowes Wood College
Glenstal Abbey School
Royal Belfast Academical Institution
Dunamase College
| | |
| --- | --- |
| TEAM A | TEAM B |
| Kosi Ugwueru | Dane Cormack |
| Alex Lee | Jaime Palacios |
| Matteo Mazzoli | Conor Crutchley |
| John Malpass | Sean Hallissey |
Match Report courtesy of Fencing Ireland