Past v Present Basketball
The evening of the Thursday 24thof April saw several OCs arrive confidently back to the sports hall to take on our current Senior basketball team, in a Past v Present battle. This was a match of Coach versus Coach and Brother versus Brother.
Uncle of current school basketball captain Conrad Daly, and a former coach here in Clongowes, Mark Keenan arrived to coach the past pupils. Mark is the current Superleague coach of Templeogue Basketball Club, reigning National Cup holders, a former national league player with St.Vincent's and former point guard with the Irish Senior Mens' Team. Ms Yvonne Nolan, also a qualified coach with Basketball Ireland, played with National League Club Naomh Mhuire in her day and was Captain at UCD. She has been coaching schools' basketball for the past 25 years and more recently is working with Liffey Celtics Basketball Club. On the whistle, Tony Burke, one of Irelands longest serving referees was to oversee the game, currently Tony is a referee tutor with the NRC.
On the court the greatest battle was point guard on point guard, Daly on Daly, Conrad versus his older brother Rob. A very quick first quarter finished even at 10 points apiece. Conrad started well, scoring 8 of the teams' points, while Corbitt fed by Daly did much of the work for the OCs under the boards scoring 6.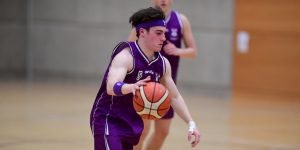 A Game of Two Dalys
The lead was stretched by our current Seniors in the second quarter with an even spread of scores which reflects a team approach. Fagan and Daly contributed 4 each, while Dowling, Molloy and GAP Student Tim Ross all found their way onto the score sheet. This was Rob Daly's quarter, mirroring Conrad's first quarter performance with 8 of 10 points for the visitors. By the half, our Seniors were 4 ahead, 24-20.
In the third quarter, powerhouse Poetry's Paddy Dowling, the current basketball Vice Captain, moved up the gears and was unstoppable under the boards, end to end rebounding and tip ups to top score the quarter with 10 points. For the OCs, Mark Thomas put up 6, but it was a strong quarter for our Seniors, who won it by 10 to lead 49-35.
The Senior basketball team have been training together under Ms Nolan's watch since the beginning of the year and fitness and familiarity pushed them to a lead which – despite a great effort – could not be shortened and the seniors finished the season unbeaten, 64-46. The Daly battle was evident to the end, both top scoring for their team, but in the end Conrad on 24 points headed former Captain Rob on 21. With ten of our Seniors in Poetry, the future of Basketball in Clongowes is – well – Purple…
Past: R.Daly, D Redmond, R. Lynch, M. Thomas, D. Corbitt, R. O'Carroll, B. Dowling, C. Conneally (Rhetoric) L.Clohessy (Rhetoric)
Present: Conrad Daly, Matthew Leonard, Johnny Hennebry, Sean Lysaght, Mark O'Loan, Jonathan Mulligan, Sean Sexton, Yuxuan Liu, Luke Molloy, Paddy Dowling, Oisin Fagan, Isa Khan, (Sean Casey).
Ms Yvonne Nolan