Just before Easter 23 young pilgrims from Poetry aided and abetted by their chaperones Ms Alexis Fox and Mr Liam McGovern, Spiritual Advisor Fr. Michael Sheil SJ, group leader Mr Garry Corcoran and Gap Student Tim Ross, set out on this year's immersion experience to Malealea, Lesotho…
The Malealea Development Trust coordinated events on the ground, the first of which was the conversion of a track into a road. The boys flung themselves into the arduous task mixing, pouring and smoothing cement, much to the delight of the locals. The next day we were split into two groups – carpenters and painters – to install new bookshelves in the local schools. The boys worked with exceptional speed, completing their days' work in the mornings and leaving the afternoons for socialising with and teaching the local school children. It was here that the boys began to realise the privilege that education is in Ireland. These children aspired to be nurses and teachers, but for most this dream would not become a reality.
Immersing themselves in the local community was a core component of the trip so that they might experience the Sesotho philosophy of 'Ubuntu', championed by Archbishop Desmond Tutu and loosely translated to mean 'people become people through other people'. This was facilitated by the homestay visits (which stood out for many of the boys as a highlight of the trip) and the annual football game – an entertaining but luckless affair as the locals won out 4-2.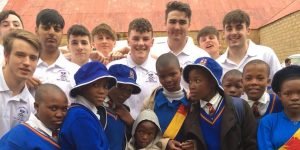 On Palm Sunday we joined the local congregation for Mass with Fr. Sheil representing the Clongowes contingent on the altar and the boys responding by celebrating through song and dance in the local style. At the end the Clongowes contingent was welcomed onto the steps of the altar where Hugo O'Donnell's exceptional rendition of 'Only In God' went down like a hit single with the locals before the boys finished with a 'Womba' that brought the house down.
As our trip drew to its conclusion we spent some time in Johannesburg visiting a number of sites including the SOWETO Township and the Regina Mundi Church before Róisín and Marc O'Connell Hussey arranged an evening of food and entertainment. The immersion experience allows those who travel the opportunity to display faith in action by helping those who need it most. It was a pleasure and a privilege to share such an experience with such a jovial, hard working, and precocious group of young men.
Mr Liam McGovern
Pilgrims: Michéal Beirne, Eddie Boland, JV Cummins, Thomas D'Arcy, Ryan Davies, Jack Deasy, Tadhg Dooley, Josh Early, Brian Gallagher, Isa Khan, Charlie Kelly, Reuben Lynch, Ethan Noone, Tim O'Brien, Oscar O'Connell Hussey, Piers O'Connor, Hugo O'Donnell, Sean O'Grady, Hugo Phillips, Fred Sargaisson, Robbie Savage, Adam Scully, William Stokes.