Parent Retreat Glendalough
A wonderful sunny day welcomed the group of twenty-seven Clongowes parents (including the Headmaster, Mr Lumb) and three members of staff to Glendalough last Friday (20th April). On arrival we were fortified with tea, coffee and delicious homemade scones in the Brockagh Resource Centre in Laragh and full of enthusiasm for the day ahead as the Wicklow mountains and valleys awaited us.
Our day started with a prayer led by Pastoral Co-ordinator, Ms Anne-Marie Dolan, and we then had some quiet time to reflect on our surroundings and our inner thoughts. The tranquillity was enhanced by the birdcalls in the surrounding forest – all at one with nature.
Our 8.5km hike led by Head of Communications, Mr Declan O'Keeffe, commenced and we were quickly in the heart of the countryside as we followed the Wicklow Way through the forest and over the hills into the Glendalough valley where other pilgrims have walked since the 6thCentury, when St Kevin established his monastery and seven churches.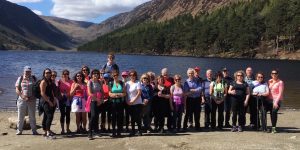 As we entered the Glendasan valley we absorbed the stillness and the beauty of the stream that flowed beside us during the 'quiet time' while walking basking in the glorious April sun. We crossed the nose of the mountain named to honour St Kevin's achievement – Camaderry or 'Seven Churches' – before descending to the upper lake. After a picnic in the grounds of a ruined chapel we continue along the south side of the valley by the Green Road to Laragh and then back to the resource centre.
The Rector, Fr Michael Sheil SJ, greeted us on our return and led us in the Celebration of the Eucharist (complete with three cheers for the Risen Christ!). Anne-Marie held the chorus together with her guitar and sweet voice, playing some of our school's favourite hymns. In the concluding reflection we spoke of our experiences during the day and how pleasant it is to step away from our busy lives and enjoy a little bit of heaven on earth.
The day ended with a delicious meal in the Wicklow Heather with lots of chat about all that had passed. It was a day to enjoy the peace that comes from being the pure witness of all nature's experience.
Nicola Raftery