The cup season is well and truly upon us and the Junior and Senior campaigns continue apace as their respective competitions reach the quarterfinal stage…
The seniors were first into the arena on the first day of spring, when they took on old rivals, The King's Hospital, in Clontarf. The men from Clongowes raced into a quick (12-0) lead and were 24-7 ahead early in the second half before the old Blue Coat School struck back (24-14). However Charlie Gallen stretched the lead to 15 points with minutes left to play and they eventually ran out 29-21 winners with a display of the stubbornness and teamwork that is their hallmark. (Full report here).
The Clongowes junior team followed their senior brethren into the quarterfinals of their cup with a hard won victory at Donnybrook on February 5th over cup debutants, Temple Carrig from Greystones. They took an early lead only to see the Wicklow men post 12 unanswered points to leave them trailing midway through the second half (7-12). However the ship was steadied with a try and then brought safely to harbour with two penalties for a satisfying 18-12 victory. (Full report here).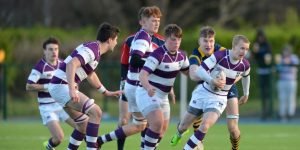 The sweetest of cups
It is 92 years since Clongowes first won the Leinster Schools Senior Cup. It took us 52 years to repeat the feat and we have won six more in the intervening 40 years. Meanwhile the juniors have won five trophies since the last days of the Second World War, the latest in 2008. Indeed it is not unusual for a generation to pass through Clongowes without tasting cup success and it is now seven long years since either trophy last graced the cabinet at the end of the Ref' corridor.
Each one of these successes is precious and each is to be prized in this, our 96th year of cup rugby. The current crop of players are proud successors to every cup squad that Clongowes has sent forth over the years, and they cherish the hopes of being one of the favoured few to return next month with the sweetest of cups.
The latest instalment of both of these historic competitions is almost upon us with the senior boys back in action on Wednesday week (21st February) against St Michael's and the juniors playing on the following Monday (26th February) against our sister school, Belvedere College (for the second year in a row) – details below.
The '23rd man' (this means you!) has always been an integral part of the cup campaign and so we encourage you to come along and support the boys as they keep the purple machine rolling along the roads to the RDS and Donnybrook in March.
All together now… 'Womba! Womba! Womba!
| | |
| --- | --- |
| SCT v St Michael's College | JCT v Belvedere College |
| Wednesday 21st February, 15.00 | Monday 26th February, 15.00 |
| Donnybrook | Donnybrook |