Clongowes Wood College 29 The King's Hospital 21
Relations between Clongowes Wood College and The King's Hospital go back a long way and run deep. As our closest rugby playing neighbours, for many years it was the tradition for our cup teams to open their friendly seasons against them every September, and readers of a certain age will recall how they put an unexpected halt to our gallop at the semi-final stage of the senior competition in 1982.
And it hasn't all been about rugby either: every January, as part of Christian Unity week, both schools take part in a bilateral celebration of the Christian faith in a spirit of ecumenism and cooperation. However there was little sign of ecumenism and no cooperation whatsoever in Clontarf today (February 1st) when the senior fifteens faced off in the second round of the Leinster Schools Senior Challenge Cup with the first day of spring in their steps.
Although Clongowes were favourites to defeat their neighbours they may have had pause for thought given the narrowness of their victory in the first match last year against qualifiers, St Fintan's. The loss of marauding Number 8, Matthew Martin might have been another concern but Barry Dooley was a more than able deputy in the tight and around the park.
Clongowes were first and second out of the traps with a well worked try from openside flanker and skipper Anthony Ryan followed by a touchdown from Bobby Sheehan. Inside centre and vice-captain, Ben O'Shea converted the first to leave the Kildare team 12-0 ahead and the Hospital men in some trouble.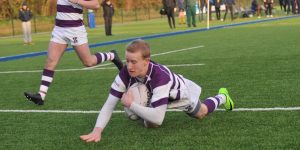 However they fought back with a well worked effort of their own that saw centre Craig Adams dot down in the corner. The difficult conversion from the touchline by Edward Mahood appeared to steady the ship at 12-7 but the riposte from Clongowes was not long in coming, as Joe Carroll crossed the line to leave his partner in the centre with another two pointer and a half time lead of 19 points to 7.
The match seemed settled at the start of the second half when Rossa O'Kane scored an unconverted try to stretch the lead to 17 points. However the gentlemen from Palmerstown were not going down without a fight and a converted try from hooker Tim Perry reduced the margin to ten. The old Blue Coat School may have been founded by King Charles II but it was another of that name – Clongowes full back, Charlie Gallen (above) from the county that gave Clongowes (and Ireland) one of his predecessors, Rob Kearney – who put paid to their effort with a fifth try for his team that left the gap at 15 points with only minutes to play.
The game was up and a final try by replacement Matthew Mahood was too little, too late with the 29-21 final score line sufficient to send Clongowes into the quarterfinal for the 13th year running. Kudos to our old rivals (and our seniors by 140 years) for helping to provide a cracking game of rugby and we can only hope that we do justice to it in the next round (and maybe thereafter).
Declan O'Keeffe, Head of Communications
Clongowes Wood College: C Gallen; J Maher, J Carroll, B O'Shea, C Kennelly; D Wilkinson, C Daly; R O'Kane, B Sheehan, C Duff; D Beggs, T Coghlan; A Ryan, J Durkan, B Dooley. Replacements: C Dowling, L McMahon, R McMahon, P Dowling, T Gilheany, M Dowling, C Grimes, D Hanly.
NEXT ROUND: Clongowes V St Michael's: Wednesday 21st February at 3:00 pm in Donnybrook