Fr Leonard Moloney, Irish Jesuit Provincial and erstwhile Headmaster of Clongowes (2004-2015) visited the college for three days last week (22nd-24th January) and met with the Jesuit Community, students and staff. The primary purpose of the Provincial's visitation is his canonical annual stay with the community when he has a personal interview with each member. In doing so, he shares with them his thoughts on the apostolates in Clongowes – primarily the school – but also the People's Church, Fr Willie Reynolds' Spiritual Direction in Maynooth University and Br Cha' Connor's work in the neighbourhood of the college.
Addressing the academic staff on Tuesday, Fr Moloney outlined his three priorities for the school:
The Alberto Hurtado Bursary Programme and its continued sustainability
The continued commitment of the Society of Jesus to the Jesuit Community living in the College and their involvement in the broader day to day school life.
The Core Mission of delivering the Catholic Ethos in the school as we continue to walk with Jesus in his friendship and ministry.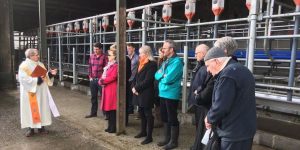 Fr Moloney's annual visitation (his second) had a very busy schedule, which included his consecration of the new state of the art milking parlour on the Clongowes Wood Farm. He also found time to take in a little of the Junior Rugby team's fixture against CBC Monkstown on the newly refurbished 'Vinny Murray' all-weather pitch (VMP).
Before his departure on Wednesday morning, Fr Moloney addressed the boys and staff at Morning Prayer. Returning to his theme of walking with Jesus in his friendship and ministry he repeated the question from the Gospels: 'who do you say that I am?' He explained that our quest and journey to answer this question simply comes about through communicating with God through prayer and said that it would be sad to think that we might miss out on the results by simply not embarking on this journey at some point.
Declan O'Keeffe, Head of Communications